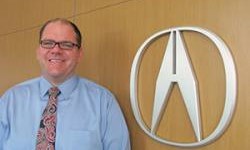 This month, Bob Howard Acura is proud to spotlight another of our exceptional team members, Sales Manager Scott Bowman. Scott is a native of Lawton, Oklahoma, and has been working with us for eight years. He is a favorite with customers and colleagues alike.
Scott's favorite part of working at Bob Howard Acura is the opportunity to make lifelong customers. "Many of our clients are on their fifth, sixth, or even seventh Acura so the opportunity to take care of these loyal clients and start new relationships is awesome."
When asked about his favorite memory working at Bob Howard Acura, Scott reflected on an experience with a customer who was buying their first car in over 10 years.
I have many great memories with clients here, but recently I was able to help a client that had not purchased a vehicle of any kind in 11 years. The automotive market was a little different in 2005, but I was able to show how easy we can help a client make a wise automotive purchase.
Scott doesn't just manage the sales of Acura vehicles, he's also a fan of them. His favorite model is the Acura NSX, and he drives an Acura TL.
In his free time, you can find Scott playing frisbee golf, kayaking, playing ping pong, cheering on the Oklahoma Sooners, or hanging out at Charleston's Restaurant.
We're grateful to Scott for all he's done to make Bob Howard Acura a dealership where customers are glad to come for the ultimate Acura experience. If you haven't met him yet, be sure to say hello the next time you visit us; Scott would enjoy having the opportunity to meet you!