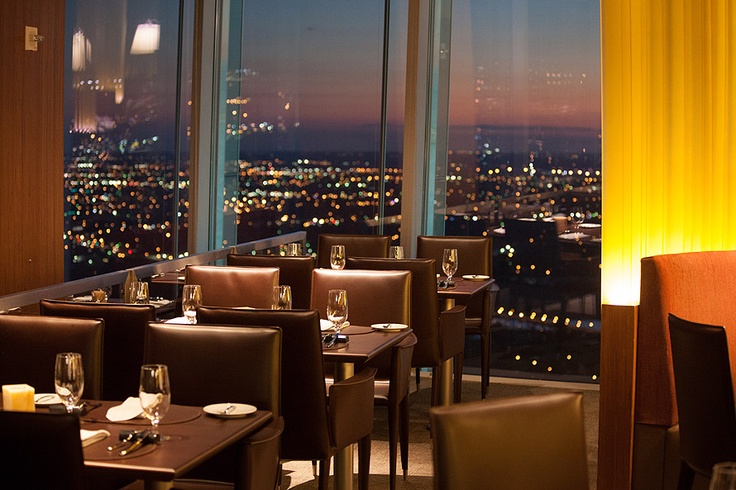 Whether you're in the mood to sample some local cuisine or partake in a lovely meal after a day trip, you're sure to find plenty of dining options to tempt your taste buds in Oklahoma City and the surrounding area. At Bob Howard Acura, we are happy to share some of our top picks for both fine dining and casual outings in our community. The long list of culinary treasures awaiting you includes mouth-watering steak, high-rise dining experiences, magnificent melted sandwiches, and more.
Located on the 49th floor of the Devon Tower, Oklahoma's tallest building, The Vast (pictured here) puts the "experience" back in "fine dining." The cocktail menu alone makes it worth the trip, but Executive Chef Patrick Williams' daily and nightly original specials will keep you coming back for more.
Named after the family that once operated the now-renovated building as a flower shop, Cheever's Cafe features a flower case-turned-wine cooler, gorgeous tarrazzo floors, and a menu full of casual elegance. Diners will be able to enjoy everything from roasted quail short stack to black bean falafel, and more.
Mahogany Prime Steakhouse is one of our favorite steakhouses with one of their locations in the famous Oklahoma City Bricktown area. Mahogany uses only the best custom-aged U.S. Prime Midwestern Beef and broils it at exactly 900 degrees to lock in the flavor.
With sandwich names like "Macaroni Pony," "Fancy Pants," and "The Cortez," you just know that the folks at The Mule don't take themselves too seriously. So if you're in the mood for a casual dining atmosphere, a melted sandwich, and a cold beer, this is the place for you. Serving everything from poutine to gravy-slathered stuffed and baked mushrooms (not to mention a wide variety of "sandies"), we're confident they'll have just what you're looking for.
Founded in Fort Worth, Texas, Fuzzy's now has five easy-to-reach locations in Oklahoma City and Edmond. The delightful menu puts a fun spin on traditional tacos while keeping the portion sizes and value high, making this a great destination for families or casual lunches.